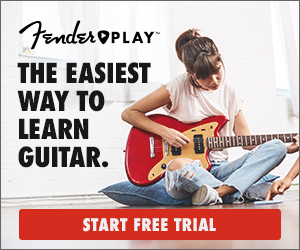 Fender Play is on online subscription lesson platform, available on computer, iPhone or Android device, designed to help you learn to play any of a number of musical instruments.  It is an amazing way to learn an instrument on your own schedule, is extremely affordable, and helps keep you motivated throughout.  Fender Play allows students to:
• Choose the instruments, songs and genre they want to learn, putting them in control of their musical journey.
• Track progress, evolution and development in real-time. Users see their progression and milestones through a user-friendly dashboard – the ultimate progress report.
• Study with a proprietary custom video player that shows chord diagrams on the lesson screen.
• Automatically bookmark at their convenience to learn at their own pace, while following a clear and unified curriculum. Upon return, players will be greeted with refresher lessons on newly-learned skills.
• Learn at their own pace on the go and at their convenience with the portability of program via laptop or mobile devices. A Wi-Fi or LTE connection is required to access the program.
• View 4K quality multi-camera footage and production elements, such as split screens and over-the-shoulder angles, which provide a valuable perspective for the new player. Each clip is short and easy-to-digest, making every moment not only educational, but engaging.
• Access a large glossary of helpful terms, chords and videos.
• Discover helpful articles, tips and tricks based on their lessons and learning path.
• Blaze their own trail based on personal taste and discovery, rather than following the recommended, custom path; browse by genre or featured artist.
• Learn their favorite songs and riffs! Skills are taught in less than two minutes and only 22 minutes to a beginner's first recognizable riff.
We are proud to be a Fender Authorized Affiliate for the program and encourage you to give it a try with their FREE 30 DAY TRIAL.